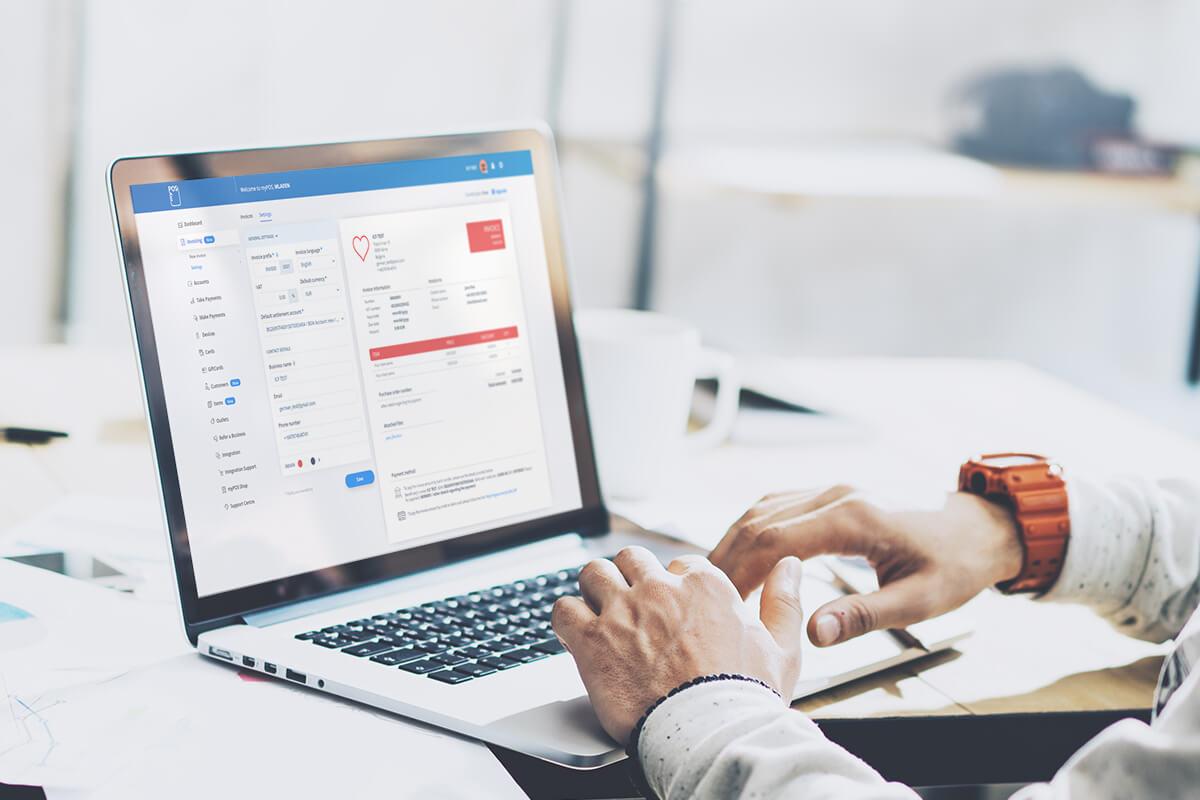 Free invoicing software is now available to all myPOS merchants
Product News / 07.04.2020
Invoicing is a necessary and inevitable aspect of doing business and myPOS has now made it easier than ever for you to send invoices to your customers by streamlining your cashflow operations from the same platform! You can now choose between a free and a subscription plan, depending on the number of customers you need to issue invoices to.
The free plan enables you to send any number of invoices to up to 5 customers, while with the unlimited plan you can generate invoices to unlimited number of customers at 15.50 EUR a month.
For the launch of the service, we are offering a special discount from 15.50 EUR to just 12.50 EUR per month! If you want to save even more – get a yearly subscription, which further reduces your monthly payment to 9.90 EUR, instead of 15.50 EUR.
Take advantage of our introductory discounted fees at just 12.50 EUR per month and 99 EUR per year and keep control of your received business payments!
Available for desktop users, invoicing offers a seamless and effort-free collection of payments, access to your funds straight away and a better payment experience for your customers. We haven't forgotten Apple users – invoicing will soon be available for them as well!
Here are a few great reasons to try it:
Tailor-made invoices with instant settlement: Customise your invoices by adding your company logo, changing the colours and fonts, and adding all the relevant information, languages, tax information and even discounts. Select a customer, set a due date, and your invoice is ready! You can now e-mail your client or send the invoice link through other channels. Your customers can choose to pay online by card or via bank transfer. If they choose to pay by card, you will have instant access to the accepted funds.
Enjoy invoice tracking: Always stay in control of your funds and track the status of every payment directly from your PC.
Take advantage of comprehensive reporting: Enjoy transparent invoice reports to suit your business' needs.
Set due date: send reminders to your clients through your preferred method, enjoy ease of access via an invoice link, set the due date and all the ways to settle the amount. It's easy!
---
All myPOS merchants can enjoy free invoicing
This free value-added invoicing feature is available to all myPOS merchants. Don't have one? What are you waiting for – signup and enjoy easy payment acceptance and an array of value-added services!
Creating your invoice is easy. All you need to do is go to your myPOS account, click on the Invoicing menu and choose between 'Customers' and 'Items' tabs. The 'Customers' tab will allow you to create a customer list, while the 'Items' tab will allow you to generate product lists that you can maintain in your account.
Customise your invoice
When creating your invoice, you can customise it completely! Choose the currency it has to be paid in and select the account in which the amount will be settled once payment is received.
In addition, you have the option to apply a discount as either a percentage or a fixed amount in the respective currency. You can also choose the tax in percentage format as well as customise the invoice number prefix.
You can further customise your invoice with the option to attach additional documents to the invoice – such as agreements, product descriptions or etc.
Further benefits of the myPOS invoicing feature include choosing the language of the invoice.
Finally, apart from the Invoice menu, you also have a dedicated menu that allows you to 'manage items and categories', 'manage the quantity of each item' and 'upload item image'.
Send your invoice via multiple channels
Your newly created invoice can be sent over email directly from your free myPOS online merchant account. In addition, you will also receive a link for each invoice which you can use across other channels such as SMS, Facebook, LinkedIn, Viber or WhatsApp. Your customers will then receive the link and can attend to the immediate payment of your invoice.
Enjoy a free and seamless invoicing experience!
With myPOS' latest invoicing value-added feature, merchants across Europe can enjoy a seamless invoicing experience. Tailor your invoices to suit your business needs and send them electronically to your customers. This easy setup enables you to not only receive your payments without hassle, but it also allows you to stay in control of your business' payments. Monitor and track all progress of payments, set due dates and more through your PC.
Try myPOS invoicing today!
Share this post: