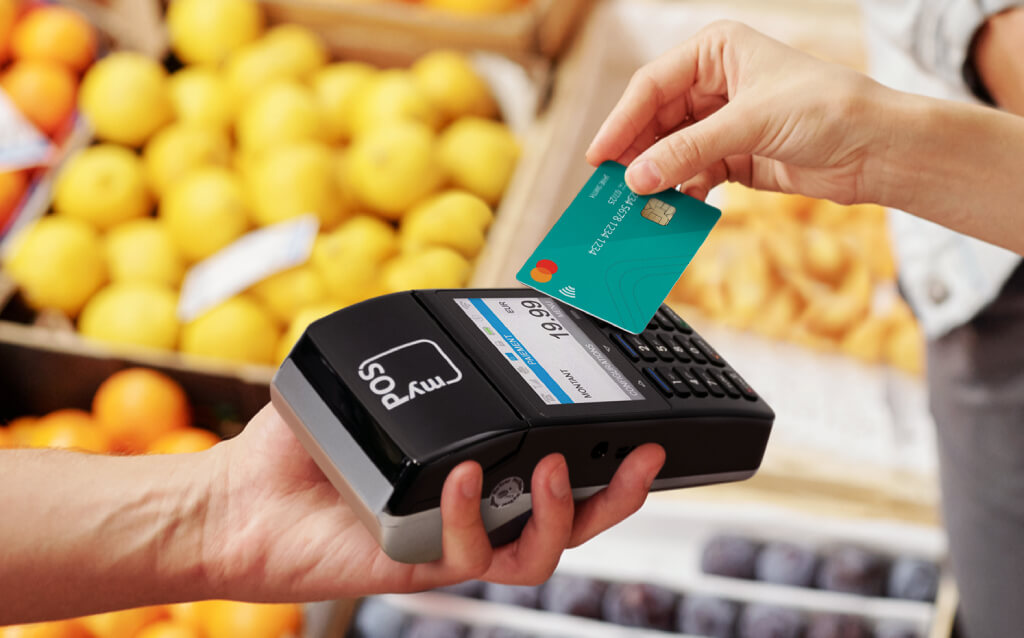 A card reader – the suitable payment terminal for most businesses
Tips / 06.04.2021
It doesn't matter whether you call it a card reader or a credit card machine, it all ultimately boils down to a relatively small device that accepts debit and credit card payments, and sometimes even digital and mobile wallets. They've been around for a while, from their chunkier versions several decades ago, but they have evolved significantly into sleek-looking devices that are geared towards helping your business grow.
So, what is a card reader and how does it work? Find out more by reading below.
What is a card reader
A credit card reader, as mentioned above, is a physical payment terminal that you use at your business to accept various types of payments that do not include cash. Their primary purpose is to accept debit and credit card payments and mobile wallets like Samsung Pay, Apple Pay, or Google Pay.
They can accept payments via magstripe, Chip&PIN, or contactless, the latter of which uses Near Field Communication, or NFC, to transfer the funds from your customer's card into your merchant account.
How does a card reader work
A typical payment device uses NFC and RFID – Radio Frequency Identification technology to accept payments.
How you accept POS payments will depend on the type of card reader which your business uses. These may range from countertop, contactless, and even payment solutions on your mobile phone.
Types of card machines
There are different types of card machines available on the market today, and you should look at several factors when choosing the right device for your business. Some of these factors include the nature of your business – are you stationary or on the go? How many payments on average do you process daily?
If you're a taxi driver, a restauranteur, or a coffee shop owner – will you need tipping mode? Do you need your device to be connected to your countertop or do you need it to be mobile?
Also, is it essential for your device to print receipts, or would you prefer to send your customers receipts via SMS or email? Find the most common types of card payment terminals below.
Countertop
Let's start with ePOS systems or countertop POS devices. In this category, myPOS offers the Hub and Hub+. Those Android-powered cash registers include payment terminals and receipt printers all in one.
Both payment devices are best suited for pubs, coffee shops, restaurants, retail stores, and more. In addition, while the Hub device offers an attractive display, the myPOS Hub+ packs an additional 8-inch display, designed for improved customer retention, cross-selling, promotional, and marketing activities.
Contactless
Your employees can carry contactless devices around from table to table in your restaurant or even taken on the go with you if you're a freelancer or a professional on the go.
Contactless payment devices offer several benefits including speed and efficiency, safety and hygiene, as well as improved customer satisfaction because of the absence of queues when making payments.
The myPOS contactless credit card readers – whether traditional or Smart – come with a range of value-added features including a free merchant account, free business card to transact with, and instant settlement of funds in your account.
Virtual
You can also accept payments virtually, even if your customer is on the other side of the world with the MO/TO Virtual Terminal. With no hidden fees, no need to set up software, or any other hassles, you'll be able to enjoy instant settlement of funds and accept card payments in-person or virtually from practically any location in the world.
Ideal for hoteliers, it's also well-suited to a number of other industries where your customers are not in physical proximity to you. Also, you can track each incoming payment and enjoy reports and analytics, too.
Benefits of using card readers for payment
There are many advantages of using card readers to accept payments. For starters, you'll enjoy more efficiency at the checkout and at the same time, keep your customers happy and satisfied.
Other positives include the fact that you'll be able to manage your accounts with better tracking, analytics, and reporting, as well as reduce risks of handling cash and increase the safety of your business and the personal data of your customers.
Can you use your phone as a card reader?
It might be hard to keep abreast of all the innovations in card readers on the current marketplace, but one innovation that's worth talking about is whether you can use your phone as a card reader. The answer to this question is a definite "yes" with myPOS Glass.
Essentially, myPOS Glass turns your Android smartphone into a payment terminal and something perfectly suited for seasonal professionals, freelancers, couriers, delivery businesses, professionals on the go, and others.
How much do card readers cost
The beauty of credit card machines these days is that they can be really affordable and you can choose the device that suits your needs best. Going from as low as 29 EUR, the myPOS Go is a perfect solution for a merchant who wishes to enjoy all the perks their account offers, all while enjoying a competitive price on the device.
Other higher-end devices, such as the myPOS Combo or the myPOS Carbon, offer a wider range of functionalities. myPOS Glass, on the other hand, comes in two pricing plans: the Starter Plan which means you only pay when you get paid, or the Pro Plan, with which you pay a small fixed monthly subscription fee and a more competitive transaction rate.
Whatever your business needs are, myPOS has you covered! From traditional to Smart devices, and to the SoftPOS Glass solution which turns your Android phone into a payment terminal – you'll find the perfect credit card reader at our Online Shop or at a physical store in a city near you.

Share this post: