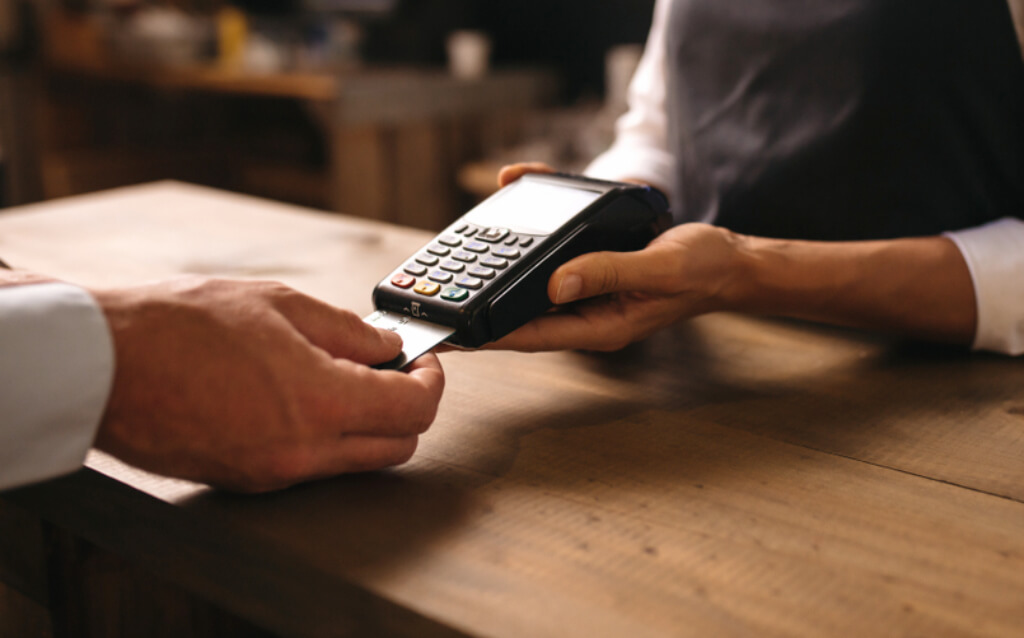 Card payment machines – how to choose the right one for your business
Tips / 20.04.2021
It has happened to many small business owners: your customer is ready to pay and they hand you a credit or debit card. This presents you with a dilemma. What do you do when you don't have a card machine? And what do you do now, especially since more and more customers are looking to pay in a safer and more hygienic manner? Many industry professionals face such a challenge – whether a hairdressing or beauty salon, a plumber, a takeaway business, a taxi cab company, a hotel, or something else
The solution is card payment machines. They can come in all sizes and colours and fulfil a variety of functions, but the main one is the fact that they accept debit, credit, prepaid, and gift cards, too. If you're wondering what payment terminal to get for your business, you've come to the right place. Here, we'll walk you through the things you need to keep in mind before getting a card terminal as well as what factors you should consider when getting your first credit card machine.
A merchant account for your card payment machine
One of the first things you'll need to know is that getting a card machine is not as simple as walking into a shop and purchasing it off the shelf. You also need a merchant account to go with it. This account is where all your received funds will go, and it requires an evaluation of the third-party financial institutions behind the so-called card payment machines. Most processors charge a monthly or an annual fee for their service, so look out for those. There are some PDQ machine providers which offer zero sign-up or monthly/annual fees – you just need to do your research carefully. Also, be sure to find out whether your provider will offer you a business card with which you can transact and make payments or even ATM withdrawals. After all, what's the point of having a merchant account if you can't access your funds seamlessly and whenever you want to?
Transaction rates when using credit card machines
There are also the transaction rates you need to keep in mind. A transaction rate is a percentage that your provider takes off each card payment you receive on your machine. Sometimes, these rates are tiered, which means the higher the transaction amount, the higher the percentage charged. Other times, you're charged a flat fee irrespective of the payment amount. Again, research is crucial here.
How does fund settlement work with card payment machines?
Many credit card terminal providers on the market today boast a lot of value-added features and benefits. But the critical element for a business is its liquidity. If you can't access the funds you've just received from a customer, what's the point of waiting 2-5 business days for these funds to clear? Some Fintech companies offer an instant settlement of funds, so if you're a taxi driver who has just received a payment, and you'd like to fill up with fuel, you can do so instantly with the instant settlement of funds offering.
Value-added features
You'd be surprised at how many other features can come along with credit card readers! Here are a few of them:
GiftCards
GiftCards are an excellent brand awareness tool, and they can also create customer loyalty while increasing sales. Therefore, when looking for a card provider, you should consider whether they offer personalised, custom-made GiftCards to suit your business needs.
Invoicing
It's an important part of our lives – invoicing. We need it to keep track of sales and incoming payments. Luckily, with the right provider, you will be able to issue invoices straight out of your merchant account.
Top up
Top-up is another value-added feature that you might be able to use from your card machine. For example, your customer would like to purchase airtime for their phones from you. You can help them do this straight from your POS device.
Choosing the right card payment machine
Now that we've covered some of the key aspects of getting a credit card device, it's time to look at the actual thing itself. How large do you need yours to be? Do you need it to be portable so that you can take your business with you wherever you go? Here are some aspects to consider.
Traditional or Smart
Card terminals can come as traditional or smart devices. Traditional ones, as the name implies, are not Android-powered devices. Smart devices on the other hand are. The latter usually come with a whole range of apps such as a cash register app that can seamlessly help your business. Remember to choose the device that will help your business grow.
Internet connection
Many devices come equipped with cables and a bunch of hardware that can make a technician scream out of fright. However, not every device is like this. Some come with a built-in DATA card for internet connectivity throughout the continent. So, when choosing your device, make sure it has a stable internet connection. Avoid getting devices with too many cables attached, as they will mostly cause confusion.
Accessories
You can also outfit your POS device nicely with some additional accessories. For example, you can get a charging dock for it to keep its battery going, or you can get a silicone case to wrap it up in and enable it to withstand shocks and bumps that naturally happen along the way.
Price range
Another factor to consider is the price you're willing to pay in terms of your budget. The traditional and versatile myPOS Go device goes for as little as 29 EUR. It might be small, yet it packs a punch when it comes to payment acceptance. There are other devices available in the colourful myPOS menu which you can choose from, too. It all depends on your business needs and what you will ultimately need your device to do for you.
Conclusion
Choosing card payment machines may seem like a daunting task at first, especially since there are so many factors to consider – from a merchant account to instant settlement of funds and so much more. Luckily, with myPOS this is easy since we offer an all-in-one business-in-a-box solution. You get instant settlement of funds together with a free business card in order to deal with your received payments immediately and in any way you wish. You also get a free merchant account with a host of value-added benefits. Not to mention the traditional and smart payment terminals we have on offer, which suit the Nano and SME merchant to a "T". If you still have doubts about what device to get and need some help, reach out to us.
Share this post: